CKC expands value chain of agricultural products, polis box(koban), and disaster prevention technology.
Project of Development of Food Value Chain
Country: Brazil
Client: MAFF(Ministry of Agriculture of Japan)
Period: 2015.6 – 2017.3 (2years)
Global food value chain strategy is promoted to export Japanese food industry. CKC conducted Bilateral policy dialogue, Japanese food reception, and research.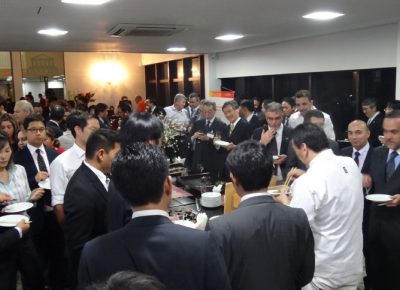 Project on Nationwide Dissemination of Community Policing
Country: Brazil
Client: JICA
Period: 2015.5 – 2017.5
Police box(koban) system is spreading in various regions of Brazil to enhance community police activity. CKC expert worked with local counterpart to develop the system nationwide.
Disaster prevention technology expansion (slope collapse detection sensor)
Country: Japan, China, Asian countries
Client: Government organizations
Our product "Kantaro" is a slope collapse detection sensor to catch incline variation and provide disaster information. CKC opened a branch in China to expand Asian countries.
Chengdu-Dongzhong http://www.ckcnet.cn/